Berlin Christmas Lights Tour during the Christmas Season 2023
Christmas Lights Tour 2023
The perfect start to the Berlin Christmas party with colleagues, employees or business partners in the most glamorous time of the year.
City Lights Tour with Christmas Market Stroll

Berlin City Lights Tour
: Take an individual guided tour of a special kind and discover the radiant city lights during the Christmas season.

Perfect starting time of this tour is after dusk at 4:30pm or 5:00pm.

Duration approx. 2 hours - with exit and stroll at a Berlin Christmas Market about 2,5 hours.
You determine the starting and ending point in the center of West or East Berlin; e.g. start directly from your hotel, your home or business address; and end the tour at one of the charming Berlin Christmas Markets or a restaurant of your choice.
Private city lights tour exclusively for your group depending on the group size in a motor coach, minibus, minivan or sedan.
Christmas in Berlin

Explore the fantastically staged sights in bright light and illuminated festively staged boulevards. Admire Berlin´s highlights.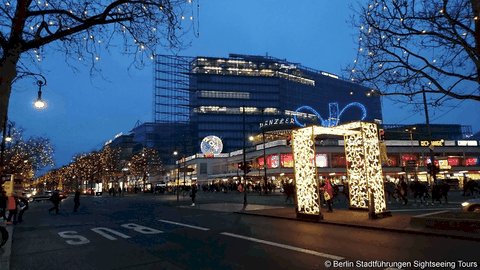 Berlin Christmas City Lights Tour
You determine the start and end point of the Berlin Christmas Lights Tour Ride in the center west or east; e.g. at Friedrichstr. or Alexanderplatz in the center east or at the train station Zoologischer Garten in the center west. Christmassy Berlin light ride also directly from your central private or company address or your hotel. End point e.g. at a restaurant of your choice or at one of the enchanting Berlin Christmas markets.



Berlin Christmas Lights Tour 2 - 2,5 hours

Our special offer:

27 November until Christmas
Berlin Christmas Lights Tour

Vehicle with driver

Tour Guide Fee *

Business Class sedan

2 seats + Guide

€URO 180,00

€ 180,00

Minivan

6 seats

€URO 204.00

€ 180,00

Sprinter-Van

€ 180,00

Small Tour Bus

19 seats

€URO 332,00

€ 180,00

Midi-Coach

€URO 350.00

€ 180,00

Motor-Coach

49 seats

€URO 402,00

€ 180,00

Special offer with our transport partner Wunderwald. All prices are inclusive of 19% VAT Sales Tax * Saturday, Sunday, Public Holiday: Berlin Tour Guide Fee € 200,00 Not included are entrance fees and gratuities.
Start your Berlin Christmas party with style
Berlin Lights Tour: the ideal start to your Christmas party with colleagues, employees or business partners.
Time to explore Berlin during the festive season. See the impressive Berlin tourist attractions in bright lights. Start your Berlin Christmas party in style.